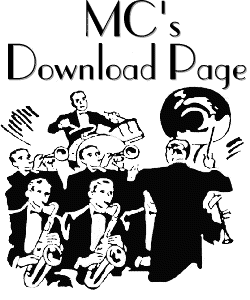 Welcome to the Download page for MC Productions. My entire database is here for your information and entertainment. Hope you enjoy browsing!
If you send this file to someone else,please provide my name and address,as the information is specific to my record collection.All recordings are available on tape.
You will find a field giving tape numbers (tpnum) of songs already on stock tapes.
M.C.'S 25,500 Title 78 R.P.M. Database
This file is a work in progress-Any times I haven't got accurate recording dates,I use a default date of 01/01/year-these will be eliminated as my research progresses. When fully indexed,it will require about 16 megs of disk space.Have fun!!!
Any questions? e-mail me at mclark@shawbiz.ca
Copyright 2006 by Mickey Clark ,permission given for non-commercial use only ,all other rights reserved.